Chef Spotlight: Lisa Givens of Gourmet Away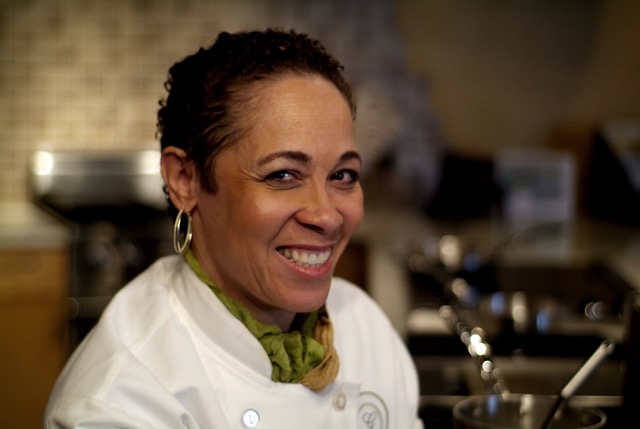 With blue skies and sun making their debut, it's time to usher in the season of outdoor entertainment - BBQ's, pool parties and creative summer party ideas.
There's no better way to add that extra flavor to your summer party than by hiring a chef! Hiring a chef shouldn't be reserved for formal dinners or extravagant parties. In fact, a personal chef could be the perfect touch to add to the more casual style that summer brings.
We caught up with Chef Lisa of Gourmet Away who has been creating quite the buzz (and recipes) in Denver, CO.
Tell us a little about Gourmet Away and all the tasty things you're working on! Gourmet Away is celebrating 12 exciting years of creating delicious every day dinner meals for my busy clients. They tell me how they like to eat and I take care of all the rest. It might be comfort food they long for from their childhood and it can be custom healthy meals that support their clean lifestyle. Regardless of their needs, I love to focus on making sure those meals are still delicious.  Samples of recent meals include: Crab cakes full of delicious lump crab meat, home style perfect pot roast with chipotle mashed sweet potatoes or BBQ marinated salmon ready to bake.
I also provide tasty custom catering menus for my client's special events.  It could be a baby shower, holiday party, special birthday party or a special dinner with friends – no matter what the event we allow you to focus on your guests, leaving the food details to us.  No stress, no fuss & no mess!
A lot of hosts think personal chefs are just for the rich and famous. Why is hiring a chef actually quite affordable - and more fun - than people realize? Personal Chefs are definitely not just for the rich and famous. One of the good things about a personal chef is they have a lot of flexibility. They can work with your budget to create a menu plan that will help you achieve your vision for your event. While personal chefs have some standard menu favorites, they have the ability to create a custom menu tailored specifically for your event. One of my recent baby showers included my mama's famous chicken salad cocktail sandwiches, a bowtie pasta with broccoli, bacon, grapes, grilled chicken with a creamy sweet sauce and a delicious seasonal fruit salad.
What's the difference between Gourmet Away and traditional catering companies? Traditional catering companies tend to have large staffs that prepare food for larger groups from a set of standard menus in a commercial kitchen. They tend to stay away from smaller events. Gourmet Away focuses on events of 50 or less with some exceptions. With our small staff, Gourmet Away can focus more on the food to give our clients that special personal touch. Most of Gourmet Away's food is prepared in a commercial kitchen but we also have the flexibility to prepare food in the client's home.
What kind of menus are cooking up for summer? Fresh seasonal vegetables with proteins that are light and delicious:
+ Corn, tomato and jalapeno salad with a light honey vinaigrette (can be kicked up with a little heat).
+ Watermelon and jicama slaw served with citrus marinated and grilled chicken skewers
+ Citrus and vodka cured salmon served with cucumber slices and a dill cream.
Any fun food trends you're seeing at events? Our clients are looking for menus that have a variety of international cuisines.  We frequently receive requests for menus that will allow their diverse guests to be able to enjoy their event, including guests with gluten or other food intolerances.  A few recent favorites are miniature versions of appetizers, food presented on skewers as well as food  paired with beers.
It's time to blow up the pool tools, dust off the lounge chairs, and enjoy the perfect summer party with a chef and our favorite KrooMembers!