Be the Best Dressed House for Summer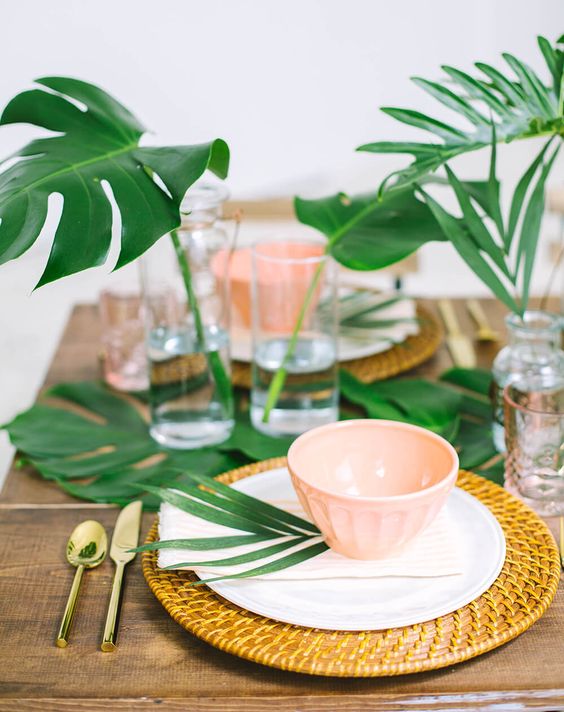 With summer in full swing (Summer Solstice party anyone?), it's time to bring the sweet sights of summer right to your backyard for the best-dressed house on the block. Everything from a tropical luau to a backyard BBQ, these easy summer decorating ideas will be great for any summer bash. And of course, every well-dressed party has a hostess and KrooMember behind it!
1. Palm Tree Views
Create a tropical table runner by layering palm leaves down the center of the table. Add simple white candles and more easy nibbles like pistachios or fresh fruit on the table to keep your guests gathered and enjoying the view all night long.
2. Oh, So Pink (and trendy!) Flamingos
Ever wonder what it would be like to have a flock of pink flamingos gather around your lawn? Simply place a few pink flamingos around the yard leaving your guests wanting one of their own. We're eyeing this flock over here that you can order and have delivered. Ready to let your flock fly? Let each of your guests take one as a party favor.
3. Light up the Night
Add a little summer sparkle to your soirée! String market lights across the yard for a well-lit environment that creates the perfect atmosphere for those long summer nights that you just don't want to end! If you have the space add a small backyard fire pit (you can easily find them at Target!) to add that beachside bonfire element for guests to gather around.
4. Bring in the Beach Balls
Whether it is a day full of sunshine or a night full of stars, it's always the perfect time to toss around some beach balls. Blow up a few beach balls and place them in the pool or around the yard. Beach balls are the perfect summer décor to dress up your party and they even double as a fun game for guests! We love to search online for colors and patterns that match the party. Can white and yellow beach balls be any more Miami?!
And like every savvy host knows, there's no better party than one that you can enjoy, too. KrooMembers are well versed in summer fun and festivities. Whether it's flocking flamingos or adding the final flame to the fire, let the KrooMembers take care of the details so you can enjoy that extra time getting that summer glow!